We've published a blog post answering the most commonly-asked general questions about Yarnlings™️, which is HERE, but thought it would also be helpful to create a post with lots of ideas on what to do with them. Scroll forth and be inspired! 
(Oh, and yes - I did get the word Yarnlings™️ trademarked - wouldn't you?!? 🤣)
Patterns specifically calling for Yarnlings™️
The original! Quadratic shawl by Mr ECY, David O'Kelly - it uses five Yarnlings™️.

Naname Socks by Yucca use Yarnlings™️ in the rainbow version. (This is a Ravelry link)
Patterns that Yarnlings™️ would be good in
Full of Minis Hat by Barbara Nalewko (knitting)
Made using 24 x 5g balls of 4ply yarn
Happypotamus the Happy Hippo by Heidi Bears (crochet)
This hippo is made using multiple variations on the african flower motif sewn into shape. Heidi has a selection of other creatures also using the same motif including a bulldog, sheep and a DRAGON!!!
Leftie by Martina Behm (knitting)
Using small contrasting amounts of yarn to create a striking pattern in the shawl.
Jolly Wee Elf by Churchmouse Yarns and Teas (knitting)
A fun festive project!
NoShow Socks by La Maison Rililie
These socks can be made with one or more colours in any quantities. 
Scraptastic Hat by Jane Tanner (knitting) (This is a Ravelry link)
A great hat design giving many options for striping with scrap quantities of yarn.
The Coziest Memory by Kemper Wray (knitting) (This is a Ravelry link)
A scrap yarn modular blanket using 5g of yarn per square.  
Christmas Bauble by Carmen Heffernan (crochet) (This is a Ravelry link)
Adding a yarny touch to your chrstmas baubles.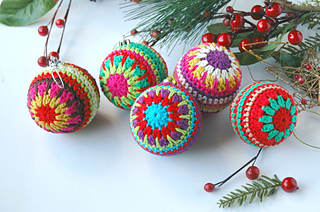 My Rainbow Heart by Stephanie Lotven (knitting)
These mitts use up to 6 yards per 6 round repeat. 
Fiddly Bits by Jana Pihota (knitting) (This is a Ravelry link)
This infinity cowl is worked continuously, joining in the next yarn as you come to it!
Kaleidoscope Fingerless Mitts by Bethany Hendrickson (crochet) (This is a Ravelry link)
Granny squares and other similar motifs are an ideal way of building up a larger item being suitable for anything from blankets to clothing to accessories. These mitts are a great example of this!
I hope this has provided you with some inspiration! Please leave your other suggestions in the comments.