This blog post is designed as a useful resource for inspiration for a specific yarn. There are projects that use it, and patterns that call for it. It's so handy to have all this in one place! 
Just FYI - there are no links to Ravelry here. We've linked to patterns and projects that are available to purchase/view elsewhere. If they're only available on Ravelry we will say that, but not link to it. 
The first part of this blog post will give you patterns that specifically call for Oakworth DK and the second part shows you our projects using this yarn.  Do you have a project in Oakworth DK that you would like us to include? Email us at info@edencottageyarns.co.uk with an image and the pattern information and we will add it. This page will grow over time as more designs are released and more projects finished!
Patterns
For most of the designs released since 2018 you can find links to social media for the designers and publications on the Design Collaboration page HERE.
Green Cress by Meiju K-P - Hazel 
A large four skein shawl combining garter stitich and a beautiful cable border. This pattern is one of the designs in Contrasts - Textured Knitting by Meiju K-P.
Baby Cabin Mosaic Blanket by Lisa Featherstone - A Cottage Original batch with Pendle DK in Spring Buds
The design is based on a traditional American log cabin quilt. It is not, however, worked in separate panels but from end to end with the varied mosaic stitches mimicking the log cabin effect.
Sweetly Hat by Elizabeth Felgate - Briar Rose
A lovely hat with an eyecatching pattern created using a simple technique. The design is easily adjustable to be slouchy and comes in a variety of sizes, all of which can be made with a single skein.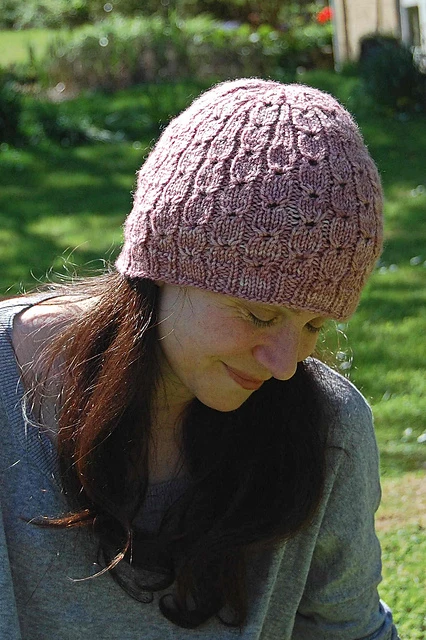 Sweetly Mitts by Elizabeth Felgate - Briar Rose
Matching mitts to the above hat. These use the same simple stitch pattern and can even be made in two colours. One skein is enough to make these in any of the four sizes.  
Threads by Justyna Lorkowska - Steel
A comfortable-fitting pullover, combining intricate lace and stockinette. Designed for bust measurements 84-120cm/33.5-48in. This is a really satisfying wardrobe staple using four-eight skeins depending on the size. 
Dubonnet by Thea Colman - Coppice
An easy cardigan with lovely details giving a flattering silhouette. Knit from the bottom up it is easy to modify based on your own preferences. Written for sizes 80-130cm/30-52in to be worn with 2-3in ease, you will need between five and eight skeins depending on the size. 
Olivette by Thea Colman -  Briar Rose / Coppice
Featured in Pom Pom Issue 17, this lovely short-sleeved sweater/tunic is written for 5 sizes; finished chest size 82.5-122cm/32½-48in, to be worn with 5-6.5cm/2-2½in positive ease. For the sweater you would need between four and six skeins depending on the size and for the tunic an extra skein would be needed for each size. With cable detailing this is a lovely piece to add to any wardrobe.
Follifoot Legwarmers by Victoria Magnus - Hazel
A free pattern on our website, these legwarmers are a great use for a single skein of DK yarn.
Jodi's Sweater by Kate Bostwick - Steel with Oakworth 4ply in Driftwood and Geum
This super-cool and cosy sweater uses both Oakworth DK *and* 4ply. The front panel is brioche, as well! 😍
Solstice Rose Cowl by Justyna Lorkowska - Oak
A feminine bandana cowl with lots of features - bobbles, lace, cables and texture. Knit at a drapey gauge, this is a snug and comfortable accessory to keep you warm on chilly days. You will need two skeins for this project.
Projects
First Sight by Anna Johanna - Cedar
First sight is a boxy sweater with slim 3/4 sleeves and a large cable panel. Victoria chose to make the sleeves full length. The pattern is written in nine sizes from XXS-XXL with finished bust circumferences between 42-62.5'' / 107-159 cm. It is to be worn with approximately 12''/ 30 cm positive ease at the bust. You will need between 750-1270 m of yarn.
Alderman by Victoria Magnus - Coppice
Beautiful fingerless mitts with an all-over cabled stitch pattern. 
Dubonnet by Thea Colman - Oak (link above)
This is a classic cardigan with a beautiful lace panel around the waist. The pattern actually has pockets included too. 

Threads by Justyna Lorkowska - Steel (link above)

 Another classic garment! This one has a beautiful lace panel across the yoke and upper arms. It works well either fitted, or as a boxy shape. 
Caldbeck by Tracey Todhunter - Old Jeans
Simple yet effective. These crochet mitts are really quick to make and a great accessory for dog walking. 
Flora by Anna Elliott - Marigold, Pennine Mist and Silver Birch
Flora is a hat and glove set. Both items feature matching colourwork details and are a great way of playing with colour combinations. The hat is slouchy and having matching gloves means you have warm and toasty fingers although in this version Victoria has not made the fingers and added a ribbed rim instead, instructions for this are not included in the pattern. This pattern is part of the Nature Collection which features three sets of hats and gloves. The collection is also available as a digital download. 
I hope you've found this blog post useful and inspiring, and if you have anything to add please do let us know on the email address at the top. We love to see your makes!