Every so often a pattern is released that calls for a combination of several yarns/colours; so we either come up with yarn packs for it or create a collection of products to help you choose yarns for it - we know how hard that can be when you're looking things online, and it does seem to be helpful. :) 
Bitten gloves by Natalie Warner - Long fingerless gloves made using Titus Lace and Lowther Lace held together. You will need one skein of each yarn and different colours can be combined to give different effects. 
Lucky Dip Cowl 4ply by Victoria Magnus - Designed to use a ball of Milburn 4ply and a lucky dip set of 15 4ply Yarnlings, this cowl would also be a great stashbuster. 
Magic Circles by Janie Crow - A large wrap made using Milburn DK in a soft palette of colours and circular motifs. We have a blog post about this design which explains the different options of yarn packs on the website, read it HERE.
Riverside Walks by Victoria Magnus - A large asymmetric triangular shawl combining garter stitch in fluffy Lowther Lace with lace ripple patterns in a sparkly Rosedale 4ply mini skein fade set. 
Belle by Libby Jonson - The body of this triangular shawl is formed with stripes of two contrasting colours of Keld Fingering, one skein of each with a fluffy laceweight edging, we recommend Eldwick Lace for this.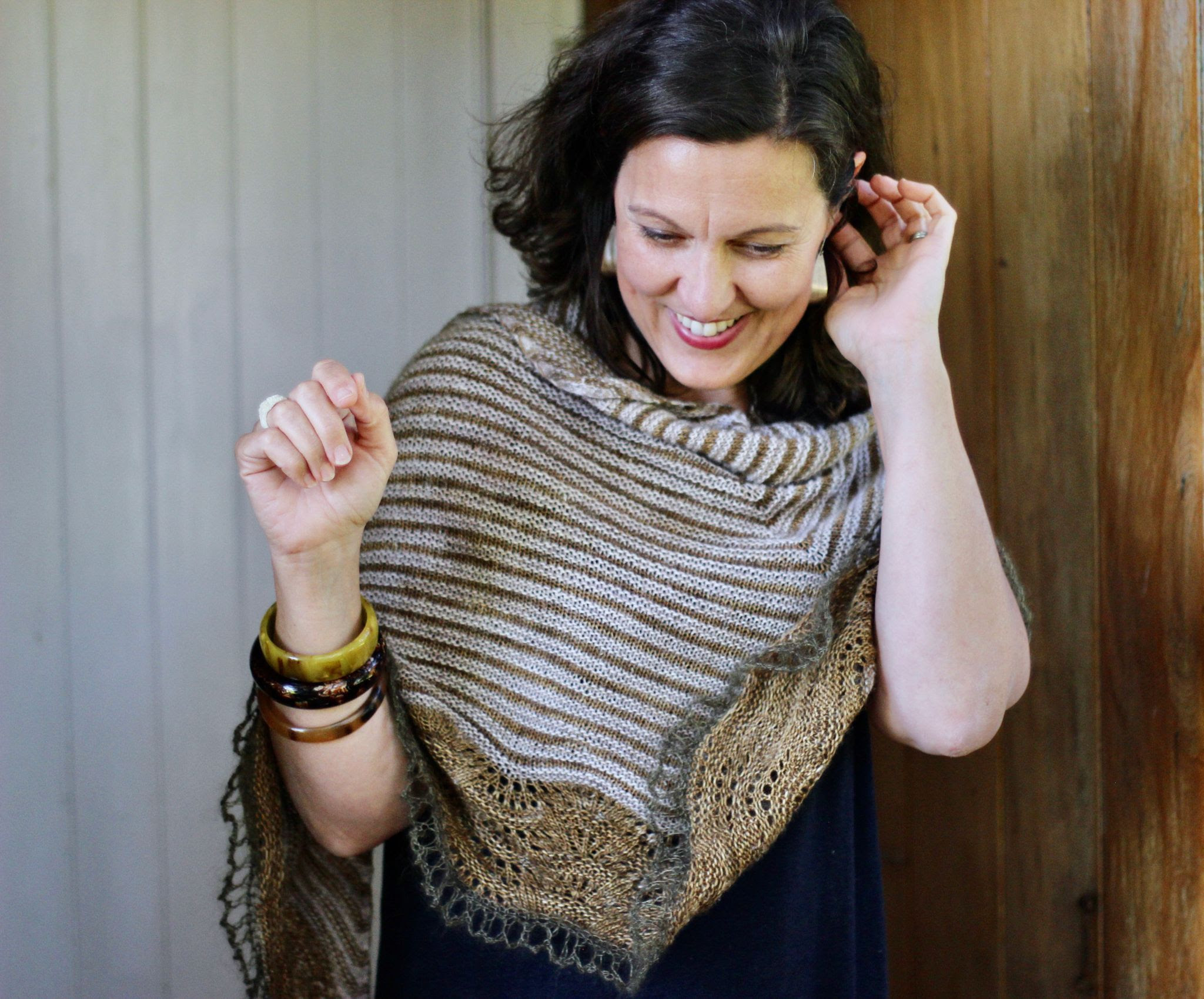 Trescao by Anna Dervout - This feminine jumper has two options of yarn, either using Hayton DK or  Titus 4ply held double with Eldwick Lace. 
Woodbine by Fiona-Alice - A beautiful sweater combining Bowland Aran and Eldwick Lace. Check out our blog post about this design HERE.
Ode to Autumn by Jayalakshmi - The third design in the Four Seasons Collection which you can find more information about HERE. See below for a link to all Four Seasons Collection products.
Flutter Shawl by Helda Panagary - First published in Inside Crochet, this beautiful shawl was inspired by soft cherry blossom against a clear blue sky.
PPS by Louise Tilbrook - PPS (Pattern Please Shawl) is a kite-shaped shawl using one 100g skein with five 20g mini skeins.
Skimming Stones by Joanne Scrace - Originally released by The Crochet Project as a mystery crochetalong.
Laverton by Victoria Magnus - A crescent shaped shawl using a combination of Carlisle Fingering, Eldwick Lace and a Nateby 4ply mini skein. For information about colour combinations take a look at this blog post.
Frail Scarf by Robynn Weldon - A brioche scarf perfectly combining colours and stitch patterns to evoke autumn. 
Starting Point / Fading Point by Joji Locatelli - Both of these designs were knitalongs run by Joji calling for five x 100g skeins. Here at ECY Shedquarters we had far too much fun selecting colour combinations which proved incredibly popular!
Cat Knits by Marna Gilligan - This is the ultimate cat lover's collection of knitting patterns for garments and accessories. The entire book of 16 designs uses Eden Cottage Yarns. You will find all yarn packs and other Cat Knits items in this collection.
Four Seasons Collection - An exciting collaboration with Jayalakshmi of Apoorva Designs. Four Seasons is a collection of four shawls/wraps inspired by Jaya's love for simple and meaningful poetry, by some of her favourite poets. Find out more about the collection in this blog post.
Drift Collection - A collection of patterns for DK yarn created by Victoria and involving a range of talented designers. For more information about the collection take a look at this blog post.
The Bletchley Collection - A collection of knitting and crochet patterns designed by Joanne Scrace using Milburn 4ply, inspired by the incredible code breaking work done at Bletchley Park. This was Victoria and Joanne's first book back in 2012. For more information about the collection take a look at this blog post.